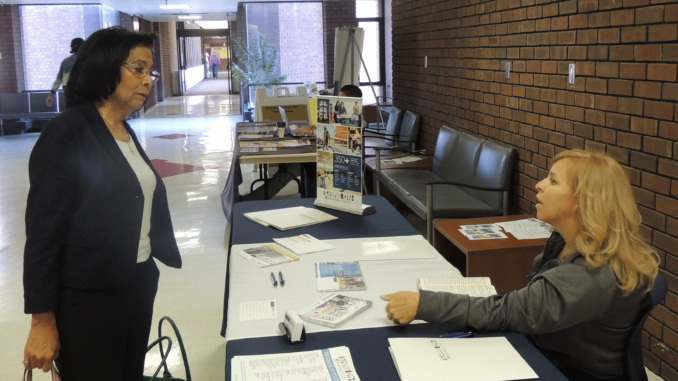 By Chris Cunningham
The Scene staff
Four-year universities send representatives to Forest Park to tell students what they have to offer, but it can be a lonely job.
Miguel De Araujo, admissions counselor for Harris-Stowe State University, said eight to 10 students stop by his table in the second-floor lobby of the Student Center during his three- to four-hour visits.
"They're mostly checking out majors," said De Araujo, 27, who has been recruiting four semesters.
Some of the pros of Harris-Stowe are that it's an historically black college and the least expensive locally, according to Araujo. The student-teacher ratio is 13-1.
The university is at Laclede Avenue and North Compton in South St. Louis.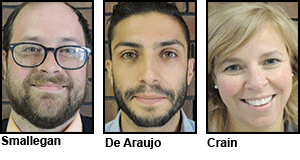 De Araujo's last visit to Forest Park was Oct. 12. Jill Crain, transfer admissions counselor at Missouri Baptist University, manned a table the same day.
Missouri Baptist is best known for its nursing, pharmaceutical technician and medical technician programs.
"We're always asked about are medical field majors," said Crain, 47.
Missouri Baptist offers many other majors, ranging from accounting to bioengineering, music education to journalism. It's off Conway Road in Creve Coeur.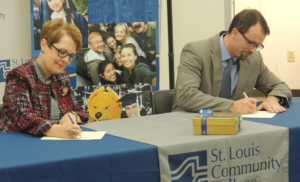 One thing that makes that university stand out is that it offers a $9,000 scholarship to students from St. Louis Community College or St. Charles Community College. They must have 42 credit hours completed and a 2.5 grade-point average.
This is Crain's fifth semester recruiting at Forest Park. She enjoys the experience.
"The students here are just nicer it seems," she said.
Also recruiting on Oct. 12 was Jacob Smallegan, 29, senior enrollment advisor for University of Missouri-Kansas in Kansas City, Mo.
Smallegan emphasizes the university's reasonable cost. Like Missouri Baptist, it's known for its medical programs. It also offers majors ranging from law to biology, physics to civil engineering.
This is Smallegan's his second semester recruiting. He has found Forest Park students to be genuinely interested in transfer information.
Smallegan has one major piece of advice for all of them: "You should find something you genuinely enjoy doing and peruse that."