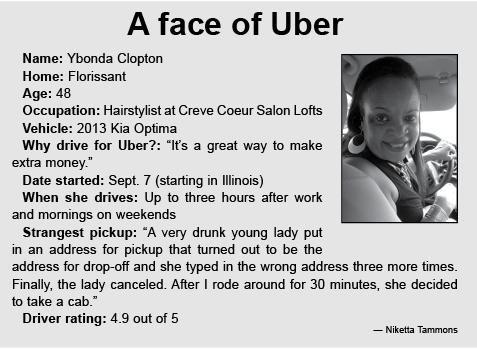 By Chris Cunningham
The Scene staff
The ride-sharing service UberX entered the St. Louis market last month, over the objections of the St. Louis Metropolitan Taxi Commission, which wanted it to meet additional regulations.
Local residents can now use an Uber cellphone app to catch rides from UberX-registered drivers. Nationwide, UberX and taxi fares are similar, but many people find UberX quicker.
"I am thrilled," said bartender and performance artist Laura Coppinger, 33, of St. Louis. "I am a bartender, so having a quicker, more responsive option to get drunk patrons home is ideal for everyone involved.
"So glad we have finally joined the rest of the nation by having Uber available in our city," she added.
Parent company Uber Technologies, based in San Francisco, is suing the St. Louis Metropolitan Taxi Commission for antitrust violations, and the commission has countersued seeking a restraining order to prevent UberX from operating in St. Louis.
The commission wants Uber drivers to have federal background checks, which involve fingerprinting, and to possess Class E Missouri driver's licenses. The company sees both requirements as unnecessary.
Shagar Sha, who has been representing Uber in St. Louis, did not return phone calls from The Scene. Another company representative, Brooke Anderson, emailed the following statement:
"St. Louisans have waited long enough, and it's great to see people finally benefiting from the same transportation options and economic opportunities that are available in other cities. We look forward to continuing to serve the people of St. Louis with more jobs, safe rides and less drunk driving."
St. Louis Mayor Francis Slay seems to be taking a neutral stance on UberX.
Patrick Brown, Slay's deputy chief of staff, said the mayor's office will continue to work with the company and commission to come up with regulations that will work for both. In the meantime, the city isn't arresting UberX drivers.
"We haven't gotten any complaints about Uber," Brown said. "They don't have big pink mustaches on Uber cars, so they are not apparent."
Brown said Slay thinks the city has more important priorities than arresting UberX drivers.
"If something rises to a higher level, we will do something, but I am not even aware of it being an issue," Brown said. "It was an intentional approach, as well as a hierarchal need. The mayor doesn't want to stifle the free market."
St. Louis County has announced that it will cite UberX drivers, but as of press time, no tickets had been issued.
UberX fares are highly variable and depend on the city, type of car, base fare, amount per minute and distance. "Surge multipliers," can cause fares to go up when demand is high, like on New Year's Eve.
UberX drivers provided more than 5,000 rides during its first weekend in St. Louis in late September, according to the St. Louis Post-Dispatch. Forty percent were between between 10 p.m. and 3 a.m.
UberX was founded in 2009 by technology entrepreneur Travis Kalanick and Garrett Camp, co-founder of StumbleUpon, a website that helps people find new websites based on their interests.
Since that time, UberX has expanded to more than 300 cities worldwide.
Uber is a for-profit corporation. In an interview with Inc. magazine, Kalanick described it as a "lifestyle company."
"It was about us and our 100 friends," he said. "You know, push a button and get around San Francisco like ballers."
The St. Louis Metropolitan Taxicab Commission is a state commission with nine members, including four who work in the taxi industry. The St. Louis mayor and county executive each appoint four members and rotate on choosing the ninth.
"We welcome Uber's operation under the taxicab code," said Richard Callow, commission spokesman.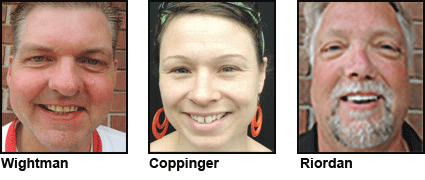 The Forest Park campus has played a role in the St. Louis UberX debate. The commission held an UberX public hearing in the Bastian Center for the Performing Arts in July. It was crowded and lively.
Coppinger attended the meeting to show her UberX support.
"Having been without a car and relying on cabs to get around to gigs, I have found cabdrivers drunk, or they don't show up at all," she said. "Whereas, I have done gigs in other cities, and Uber has made transportation much easier."
"If this is a democracy they should be willing to play competitively with Uber," she added.
County Cab driver Michael Wightman, 46, disagreed, saying if UberX drivers followed the same rules as taxi drivers, he would be fine with them operating in St. Louis.
Wightman also has some concerns about UberX's business model.
"You can't cancel a ride with Uber," he said. "You get charged. You can cancel taxi with County Cab."
Wightman also noted that taxi drivers police one another to protect the industry's reputation, while UberX drivers are less concerned because most are part time.
Many people at the meeting booed when an allotted 40-minute question-and-answer session was cut to 25 minutes, leaving Ed Domain, an UberX advocate, unable to speak. He yelled "cowards" as he left the theater.
Domain, 42, later said he was injured in 2013, when the driver of an uninsured Harris Cab Co. taxi ran a red light while looking at his phone. Domain has had about 10 surgeries and suffered damage to his arms, legs, pelvis, chest and brachial artery.
The taxi commission "has proved itself incapable of regulating taxi cabs, so we shouldn't trust them with regulating Uber," Domain said.
ABC and Checker Cab insurer Mark Riordan believes Harris Cab was an exception and that most St. Louis taxi companies are insured.
"Every Friday I doublecheck the numbers of cabs and the number of policies to make sure they match," he said.