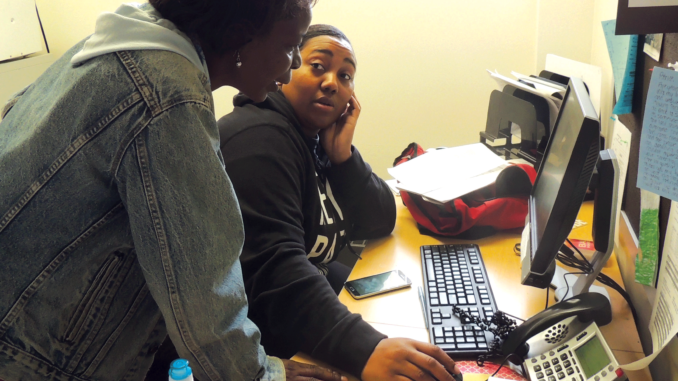 By Chris Cunningham
The Scene staff
Beatrice Brown was shot in front of her two kids during a home robbery 10 years ago.
The 27-year-old had only a high-school diploma and a little ROTC experience. She was struggling to make ends meet with her job as a concession manager at Busch Stadium.
"I sit back and I think, 'In 2006, I could have given up and become another statistic,'" said Brown, now 37. "I could have just said 'whatever' and done nothing. But I didn't, and I persevered and look at me."
Brown is pursuing a master's degree in human services at Webster University and working in Continuing Education at Forest Park.
She's an inspiration to co-workers, such as Continuing Education Enrollment Assistant and Navigator TeKela Underwood, whose office is next door. They met in a Crisis Intervention class.
"When Beatrice first told her story in class, there was not a dry eye in the house," said Underwood, 41. "Even the young men cried. It is amazing how she has overcome her situation."
Underwood describes Brown as "witty, yet serious."
"She is a very fun-loving person," Underwood said. "She has the most amazing personality."
On Feb. 3, 2006, Brown was relaxing at home in the Fox Park neighborhood of south St. Louis when her live-in cousin brought over three men she met at Burger King. Six hours later, they robbed her.
The men stole Brown's money, jewelry, house phone and her and her children's clothes. At one point, she moved while following orders.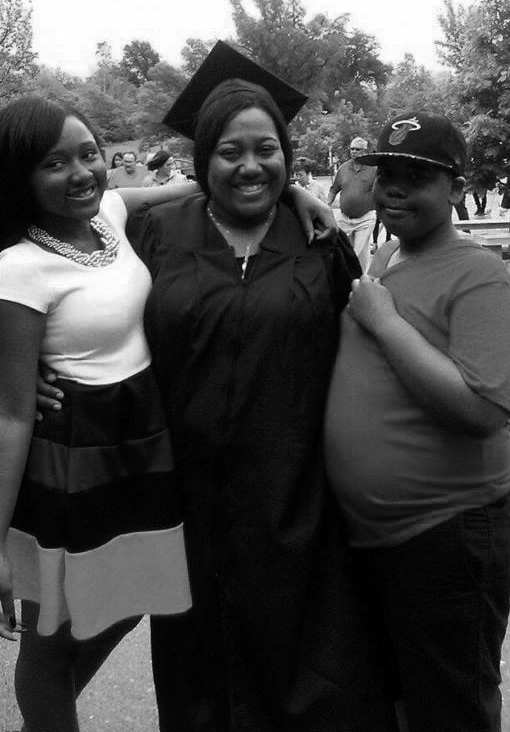 "One of the guys said I scared him, so he shot me three times," she said.
All three bullets went in Brown's abdomen. One travelled from her lung to her shoulder. Her 5-year-old daughter, Daprice, and 2-year-old son, Darrien, witnessed the shooting.
"I went to a really dark place," Brown said. "I didn't think things were ever going to get better. I felt like I failed my children. Even though I was the victim, I felt at fault."
Beatrice was in the hospital for seven days. Her spirits began to improve, but after going home, she got depressed again.
"Reality set in," she said. "My kids' clothes and shoes were gone. Everything I worked for was gone. I've never done anything but take care of my kids, and somebody violated us and took so much from us, and it was heartbreaking."
Brown saw a therapist, but she was told counseling wasn't necessary because of her strong family bonds.
"We got love in the family," said her Patricia Brown, 52. "It goes a long way."
Beatrice Brown quit her Busch Stadium job to spend more time with her children, but when bills began to pile up, her depression worsened.
At the time, Brown's daughter was in a Head-Start program called Youth In Need. Brown became close with an employee whose husband worked for a construction company, which ended up renovating her house and filling it with new things.
"They didn't want me to have any remembrance of that day," Brown said. "They got me a new bed, so it could be fresh and I could have a new outlook. That gave me hope to get me back up on my feet. If they see your worth, you must be worth something."
Brown later got a job at Youth in Need, where co-workers inspired her to go back to school. She enrolled at the Florissant Valley campus of St. Louis Community College.
"My daughter was in the first grade," Brown said. "She was like, 'If I can do homework, you can do homework.'"
Brown earned her associate's degree in human services in 2012 and her bachelor's in criminal justice from University of Missouri-St. Louis in 2015.
She was especially proud to receive her bachelor's degree, three days after her daughter graduated from eighth grade.
Brown has worked at Forest Park for three years as a student registration assistant in Continuing Education. She wants to be a human services practitioner, and her educational plans don't end with a master's.
"I want to get my Ph.D.," she said. "I want to be a prof and open up a private practice to help offenders."