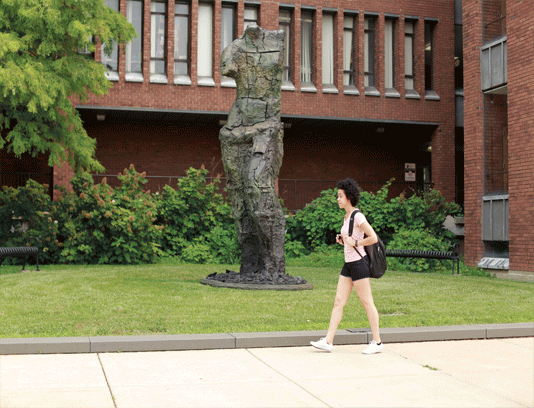 By Seth Kirkpatrick
The Scene staff
Students, faculty and staff walk past the sculpture in front of C Tower every day, but few know much about it.
"It looks like a woman with no head," said general studies student Patrick Burley, 20. "I would name it 'Headless Woman.'"
Amber Harris, a 45-year-old nursing student, has mixed feelings about the sculpture.
"To me, it's a symbol of how men view women," she said, "No head, just her body. She is missing her best feature: her mind."
On the other hand, Harris appreciates the fact that Forest Park has such a prominent piece of art on campus.
"(The female figure) looks like she's been through a lot," she said. "She is a goddess."
Nursing student Cathryn Myers, 41, guessed that the figure's missing head is a symbol of being able to think freely.
"I would name it 'Freedom,'" she said.
All three students are at least partly correct. The sculpture, called "Weathered Venus," is an image of a woman with no head or arms. It's 14 feet tall and made of bronze.
The piece is part of a series of Venus sculptures created by well-known American pop artist Jim Dine. All are interpretations of the ancient Greek statue "Venus de Milo."
"I am truly thankful that we are able to have such a substantial bronze sculpture of this scale and notoriety set in place here at the Forest Park campus," said Matthew Isaacson, associate professor and ceramics coordinator.
Isaacson refers to the piece as a "Hellenistic" sculpture (relating to Greek history, language and culture between the death of Alexander the Great and defeat of Cleopatra and Mark Antony by Octavian in 31 B.C.).
"As we gaze at this particular work, we see a classical female figure that has been intentionally fragmented or cracked apart, headless and abstracted from the original ancient Greek sculpture," Isaacson said.
"This triggers numerous questions of how or why this object might evoke specific emotions to the viewer."
The sculpture was erected on the Forest Park campus in 1990, according to a bronze plague at its base. It was donated by the Gateway Foundation.

Dine is still living. He has been represented by New York City-based Pace Gallery for nearly 40 years.
Its media contact, Sutton PR, stated in an email to The Scene that he was unavailable for comment.
Dine was born in 1935 in Cincinnati, Ohio. He earned a bachelor of fine arts degree in 1957 from Ohio University.
"He moved to New York City in 1958, where he had his first group and solo exhibitions," according to his bio on Pace Gallery's website.
"Dine instantly became an active figure in the New York art world, creating and staging many of the first 'Happenings,' along with artists Claes Oldenburg and Robert Whitman.
"Since his first solo exhibition in 1960, Dine's paintings, sculptures, photography and prints have been the subject of nearly 300 solo exhibitions worldwide."
Dine started his Venus series in 1982. The first interpretation of Venus de Milo, titled "Cleveland Venus," is 37 feet tall. It stands in front of the Carl B. Stokes Federal Courthouse in Cleveland, Ohio.