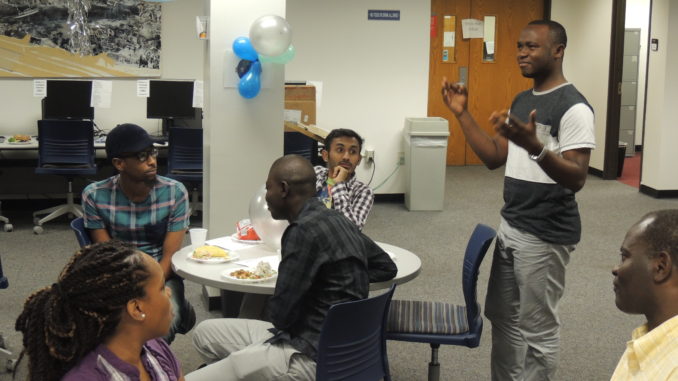 By Lesa Bush
The Scene staff
Forest Park student Elie Mafolo got the opportunity to come to America by winning a green card lottery.
Each year, U.S. Citizenship and Immigration Services uses the lottery to grant visas to 50,000 immigrants from all over the world. Mafolo, 22, a native of the Democratic Republic of Congo, found out about it through his older brother.
"When I was 18, I did it," Mafolo said. "(My brother) tried it three times, and it didn't work. But I only participated once and it worked out."
Mafolo moved to St. Louis in August of 2012 to live with the Rev. Beni-Christian Kimbombi, a friend of his uncle who had won the lottery in 2006.
Mafolo had dreamed of attending Harvard University, but Kimbombi suggested he start his education and learn English at Forest Park, where the cost was more affordable.
"I told him that I would help him get admission to (Forest Park), and then we'll worry about transferring to other universities in the future," said Kimbombi, 43. "So that's where we started, showing him the community college, how to get a driver's license, and everything else."
Mafolo began attending classes the following January. This semester is his last at Forest Park, where he has managed a 3.8 grade-point average.
Mafolo recently was awarded the Elizabeth Gray Danforth scholarship, which gives two-year full rides to Washington University for high-achieving St. Louis Community College students. He'll start in the fall.
"When we found out that he won the scholarship, it was such good news to us," said Christian, who is senior pastor at Shammah Church of St. Louis.
The accomplishment didn't surprise Forest Park associate math professor James Munden. Mafolo took math classes from Munden, 32, and proved to be an "excellent" student.
"He's always thinking a few steps ahead, which I like, instead of just (coming up with the) same examples and conclusions," Munden said. "Also, he asks a lot of questions, insightful questions."
Outside of the classroom, Mafolo is a math, physics, and French tutor who likes to play guitar and soccer.
Mafolo grew up in Congo's capital, Kinshasa. After entering the lottery, Mafolo went to U.S. Citizenship and Immigration and Services website to check on his status. He thought he didn't win because he had entered his name wrong.
"I didn't know what a last name meant," he said. "In my country, the way we write is so that your last name and your middle name are together. So when I typed those in, at first nothing came up, but when I put just my last name by itself, it showed that I won."
Mafolo still had to be interviewed at the U.S. embassy in Congo. Officials must verify a winner's identify before he or she is given a visa.
Originally, Mafolo thought he would be going to Atlanta, Ga. Then his uncle told him it would be best to live with Kimbombi in St. Louis.
"In Africa, we are like a family, so I was open to receiving Elie," Kimbombi said. "Then I met him for the first time, and I said, 'Welcome to the U.S.' … I told him anything we can do for you as far as learning English we'll help you. Also we told him to feel free to ask any other questions you might have."
One of Munden's best friends has a story similar to Mafolo's.
He couldn't speak English when he immigrated to the United States from Africa. He earned a master's degree and doctorate in math and now teaches at a university.
"We were in graduate school together," Munden said. "Elie reminds me of him. They have the same personality, same temperament, and so I think of my friend whenever I see him."
Munden has no doubt Mafolo will do well at Washington University.
"I'm very proud of him," said Munden. "He's worked hard to get where he's at. It's good for him and it reflects well on the college."