By Jasmine Hsieh
The Scene staff
Sherell Adams stands at only 4-foot-11 and weighs less than 100 pounds, but she makes a big impression.
The general transfer student at Forest Park recently was named to the All-Missouri Academic Team, a statewide award recognizing outstanding community college students.
Adams, 23, has overcome many obstacles to get an education. Her philosophy reflects her strength and determination.
"If it seems difficult to continue or you become discouraged, just know that it is a sign and there is greatness to come," she said.
The All-Missouri Academic Team honored 37 students this year. The eight from St. Louis Community College include two from Forest Park.
The second is Salmedina Alic, 21, a general transfer student from Bosnia. She also has a can-do attitude that could help other students.
"Even if you find yourself in a really hard spot, like working full time, just keep trying and you'll get there," she said. "If you stop trying then you won't."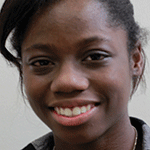 Tough childhood
Adams was homeschooled, but her education suffered greatly after she turned 13. She had to care for her mother, who was diagnosed with epilepsy.
Adams and her two siblings earned their GEDs in 2011. Adams was twice denied admission to her dream school, University of Missouri-St. Louis.
"At that point, I didn't know where I should go, what I should do or if I can even continue my education," she said. "I was just so lost."
Adams enrolled at Forest Park in 2013. Her first semester was tough. She had been out of school for a long time and didn't have much experience taking tests or writing essays.
"I got a C on the first exam in college algebra, but (Lueke) gave me all his support and made it possible for me to finish that course with an A," she said.Adams took College Algebra and Chemistry 101, heavy courses with high fail and withdraw rates. Math professor Michael Lueke and chemistry professor Joe Wilson helped her succeed.
"And Wilson made me, someone who hated science so much, fall in love with chemistry. I want to give special thanks to both of them."
It takes a cumulative GPA of 3.5 to join the Phi Theta Kappa honor society, but Adams began participating in Forest Park's Xi Epsilon Chapter even before she met the criteria.
"Sherell's dedication and commitment were noticed very early when she was accepted as a provisional member (of the society)," said adviser Sandra Knight, a Forest Park counselor.
"She is an outstanding student leader, and her contribution to the college and the community is large."
Adams went to the Missouri Phi Theta Kappa conference in Kansas City in 2013, the first time she had been out of St. Louis.
"It was a big milestone for me," she said. "I was like, 'Really? Are you guys going to take me to Kansas City even though I'm not a member yet?' It was unexpected."
Adams got to fly in an airplane and go out of state for the first time last year, when Phi Theta Kappa members attended a conference at Walt Disney World in Florida.
Today, Adams serves as vice president of the Xi Epsilon Chapter. She is an active member of the Chemistry Club, formerly serving as secretary; and the American Association for Women in Community Colleges, receiving a $300 regional scholarship last year.
"Sherell is a super sweet, bubbly-positive person," said nursing major Gloria De Avila, 27, vice president of communication for Xi Epsilon. "Whenever someone puts a task on her, she is right on it and actually goes out of her way to get it done.
"In Phi Theta Kappa, when she was the treasurer, she did a lot of the role of the president and vice president and just undertook a lot of the pressure along with her own schooling."
Adams will attend UMSL in the fall on a full scholarship. She plans to double major in accounting and chemistry.
"It means a lot when you think about the very school I'm going to had actually denied me twice, and now they're giving me a full scholarship to attend there," she said. "That's how far I've come."
Adams is grateful for the faculty, staff and other resources at Forest Park.
"Forest Park has encouraged me to continue on my goals," she said. "They gave me the opportunity when no one else would."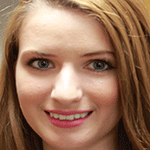 Bosnian immigrant

Alic immigrated to U.S. with her family from Bosnia when she was 8 years old.
She graduated from Bayless Senior High School in St. Louis in 2012 and chose to continue her education at a community college because she was still contemplating her goals.
Alic's first year at Forest Park was tough because she had to take developmental courses while working full time for a housekeeping company.
"I was really tired all the time, because I worked Monday through Friday, eight hours a day," she said. "But I still tried really hard to keep up with my grades."
Alic maintained a GPA of 4.0 as she continued with college-level courses.
She became a Supplemental Instruction leader and a peer tutor at the Academic Support Center, thanks to a recommendation from math professor Lynda Fish.
"Some of the things I've heard about Salmedia from students are that she's very patient and that she offers many different ways of learning to help students," said Cynthia Jenkins, center manager.
"I even heard Ms. Fish say that Salmedina is just the ideal SI leader for her students. She has a compassion that stands out and I see it right away in her."
Alic keeps motivated by surrounding herself with hard-working students who have the same goals, and by reminding herself that education is important.
''I see a lot of people around me who (didn't get) a degree when they were young, and their lives just look really stressful," she said.
"When I look at that, I get scared and I don't want that for myself. I don't want a life of stress when I can just do something about it now."
Like Adams, Alic is active in Phi Theta Kappa, serving as vice president of finance. She will study biology and pre-optometry at UMSL on a full-scholarship in the fall.
Alic has a reputation for diligence and perseverance among schoolmates and friends.
"Of the time that we've been friends, she has motivated me and helped me with my studies," said her best friend, Najma Sherzoy, 18, a general transfer student at Forest Park.
"She has gone through many struggles with life, and she doesn't need anyone to push her. She has her own motivation and big goals."
Sherzoy remembers one night when Alic wanted to go to a party but chose to stay home to study for an exam. She got an A.
"She doesn't party," Sherzoy said. "And she doesn't have fun because she always makes sure that she's prepared. And she doesn't let anything get in the way (of) what she wants, and that is getting As and being the best she can be."