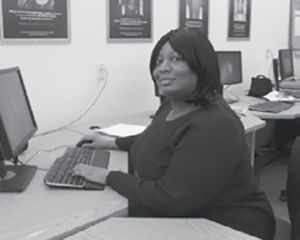 It's been three years since I joined the Global Faith Community, a multicultural Christian club at Forest Park. Its mission is to encourage students to meet those from other cultures, learn, socialize and explore views on Christianity.
I did not have any friends at Forest Park until I met Erica Li, now the club's faculty sponsor. She was in the cafeteria leading a Bible study called "Sexy Pizza," which covered Biblical teachings on fornication. Students ate pizza (or something else) for lunch while listening. I'm a born-again Christian, so I began sitting in on sessions.
At that time, the group was small and not an official club. Erica searched for places to hold meetings, including restaurants. I got to know students from Africa, China, Brazil, Columbia and other countries. Erica threw parties at her house, where we ate, talked and laughed.
Before I joined the club, I never had any international friends. I used to be unsure if they would accept or understand me. Erica's parties made me more comfortable socializing and forming relationships with them.
Erica's husband is Chinese, so she follows some Asian customs. She asks people to take off their shoes at the door of her house. I also was invited to another Chinese friend's home for dinner. Both experiences were interesting. I got to see how people from other cultures live, and I felt very welcomed.
Last semester, my club involvement made me want to learn a different language. So I took Spanish 101, and a friend from Columbia tutored me. I earned a B in the class, and today I can speak and understand a little bit of Spanish.
St. Louis has many international festivals, including the Festival of Nations at Tower Grove Park, St. Louis Greek Festival at St. Nicholas Greek Orthodox Church and Japanese Festival and Chinese Cultural Day at Missouri Botanical Garden. Global Faith Community members have gone to then as a group.
We also go to a camp for Christian clubs from colleges and universities in Missouri every year in May. Camp Windemere is sponsored by the International Getaway Conference. Students socialize, study the Bible and share perspectives about it.
There's a cultural exchange, where students can make presentations related to food, music or sports from their homelands. Two summers ago, a Washington University student from India taught us how to play cricket. I enjoyed talking with him throughout our stay.
The same year, a young Kenyan lady from University of Missouri-St. Louis sang a gospel song in Swahili while we marched around the lodge. She was one of my roommates, and I really liked spending time her. She also sang while we were hiking in the woods. The lyrics, heat and natural setting inspired me and made me feel like I was in Africa.
A young Korean lady from University of Kansas also shared her life story. She talked about hardships that she overcame while growing up and how she became a Christian gospel singer. She sang a Korean gospel song, as well as the famous Korean rap "Gangnam Style."
I got kind of emotional when the Korean student was giving her presentation because some of her life experiences were similar to mine. I went to her room to introduce myself and tell her how her story had encouraged me. We found out that we were the same age with the same major and faith.
The student told me that I made her feel very powerful, and we gave each other a hug and continued to hang out at the camp. It was cool to meet someone from another country who was so much like me.
Erica also asked some of the black students from Forest Park to give a presentation. She explained that some cultures are unfamiliar with American blacks and hold negative views and opinions. (I suspect that's because the media often misrepresents us.) Erica wanted them to focus on the positive.
The Forest Park students talked about how they worship, performing a lively praise song and a gospel rap. As a black woman, I was glad to see them dispel stereotypes and show that American blacks are energetic and soulful when it comes to religion.
I have gained a lot of confidence as a member of the Global Faith Community. I no longer feel shy about socializing with people from other cultures or sharing my faith. This year, we worked to become an official club at Forest Park, and I walked around school asking students to sign a petition. Ten people agreed to do it.
Official status gives us access to campus facilities for meetings and other activities. Since the Michael Brown shooting, I have been inspired to teach students about my own black culture and other cultures.
My first club project was arranging a free viewing of the movie "Selma" on May 1 in Café West. This gave people an opportunity to watch in an informal setting and discuss their feelings and opinions. It also happened to be a birthday celebration for me. About 15 people showed up.
I am inviting all Forest Park students to submit ideas for community service projects to benefit the black community in St. Louis. I'm also encouraging people to teach others about their cultures.
If we listen and get to know each other, we can make St. Louis a more tolerant and better place to live.
I'm learning that people who are different from me also have many similarities. We are all individuals, despite the characteristics and practices of our cultures, and we have a lot more in common than we think. I pray that the Global Faith Community will continue to bring students together for years to come.