By Lesa Bush
The Scene staff
Katie Rhoades was a 19-year-old stripper in Portland, Ore., when she met a woman who introduced her to a pimp.
Three days later, they were on their way to San Francisco.
"We were going there for the purpose of prostitution," said Rhoades, now 34 and living in St. Louis. "At first, that wasn't what they pushed, but after we got there, I was isolated from my family and friends."
Rhoades said she didn't walk the streets. She worked in nightclubs, some more "sleazy" than others.
"They were basically brothels, and everyone knew they were brothels," she said. "They handed out condoms and hand sanitizer when you went in. We worked 24 hours a day, and when we were not in a club, we were manning an escort line."
Rhoades was a prostitute for two years before turning her life around, checking into rehab, attending college, getting a job caring for the mentally ill and founding the Human Action Network, a non-profit organization that helps women get off the streets.
Her story parallels some of those described in the new book "Human Trafficking in the Midwest: A Case Study of St. Louis and the Bi-State Area." It was written by Forest Park sociology professor Andrea Nichols and Erin C. Heil, an associate professor of criminal justice at Southern Illinois University Edwardsville.
"We interviewed police, prosecutors, social service providers, survivors, advocates (and) community coalition members who provide education and awareness about the issue in the community," Nichols said.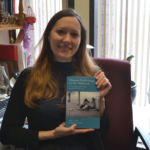 Top 20 in trafficking

Nichols, 37, was sitting in her office in C-216 at Forest Park, wearing tall boots and black glasses, swiveling in her chair and sipping a can of Starbucks.
From her research, she knows that St. Louis' location in the middle of America has helped it become one of the FBI's Top 20 cities for human trafficking.
"There are lots of different interstates that run through St. Louis, and those interstates also have connector interstates, I guess you could say," she said. "So as far as travel goes, we would be seen as a risk."
Nichols came up with the idea for a book after teaching a Gender and Crime Studies class, which included a section on sex trafficking.
Some of her students had personal experience with people involved in prostitution. Their stories inspired her to develop a curriculum for a Sex Trafficking class, which led to a research project.
"Some of the prosecuted cases of sex trafficking have been around the airport because you've got a consumer base," Nichols said. "You know, people fly in for business for a day (who) are looking for a little bit of sex."
Nichols and Heil have known each other for about 15 years. Both earned master's degrees in sociology at SIUE and later shared an office as adjunct faculty.
They spent three years researching and writing "Human Trafficking," with Nichols focusing on sex trafficking and Heil on labor trafficking. The book sells for $28 at amazon.com (Carolina Academic Press, 234 pages, paperback).
Falling into the trap

Human trafficking is an umbrella term for labor trafficking and sex trafficking. Labor trafficking often involves illegal immigrants who are forced to work for fear of being deported.
Sex trafficking is prostitution "induced by force, fraud or coercion or in which the person induced to perform such acts has not attained 18 years of age," according to the federal Trafficking Victims Protection Act of 2000.
Rhoades understands how women fall into the trap.
Her pimp not only kept her physically isolated from the rest of the world, she said, he also made her feel alone psychologically. He and his "bottom girl" (the woman who recruited her) became her family and friends.
"Either the bottom girl or the pimp kind of controlled when we ate, when we slept, where we went," said Rhoades, a redhead who moves quickly between joking and seriousness. "Everything was about the life and the game and getting money."
Rhoades was sitting in her office on South Jefferson, where she and another staff member work part time, leading a support group for former prostitutes and raising money for programs.
Rhoades was able to talk to her parents while a prostitute, she said, but only if they paged the pimp and he allowed her to return the call. They thought she was in the music business.
Rhoades admits that she liked some aspects of her life as a prostitute. Her pimp wined and dined her, took her to fancy nightclubs and drove her around in expensive cars.
"I spoke the language, and I was defiant of any law enforcement," she said. "You would hear me say things like, 'Would you rather be the ho taking the money or the wife at home crying because your husband's picking up a ho?' I bought into that."
Today, Rhoades finds that attitude "embarrassing" and realizes it was just a rationalization that helped her to survive on the streets.
"I was numb a lot," she said. "I was in a lot of pain, and I would cry myself to sleep a lot, so I would put up that front during the day. I don't remember a lot (during) that time period because I was either high or in a lot of trauma situations."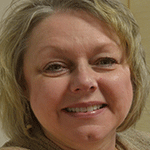 Young girls on the run

Many girls are very young when they become prostitutes. Some get kicked out the house or run away from abusive parents. They can't find jobs as minors and don't want to turn themselves in for fear of being placed in foster care.
Older men often manipulate these girls emotionally, Nichols said.
"They'll say, 'Well, I do all this for you. Can't you do this for us? If you do this, you could make some money for us, and we could live better.'"
The Covering House is another St. Louis organization that helps prostitutes, specifically minors, get off the streets. In some cases, they get into it because of relatives.
"If a parent or a step-parent has an issue with some sort of addiction, then it's not … uncommon that they might rent out their child for drug money," said founder Dedee Lhamon, 53.
Lhamon was sitting in her office in the basement of the Missouri Health Association building on South Grand. She founded the organization after seeing a 2008 documentary on sex trafficking.
Lhamon explained that some prostitutes are gradually introduced to the life.
"(The pimps) may start them out doing pornography online, some webcams, then maybe move them into stripping, and then from there into actually engaging with men in the hotels and different places," she said.
$1,000-a-night quota

Rhoades' pimp required her and his other prostitutes in San Francisco to earn a minimum of $1,000 a night. Failure to meet the quota resulted in physical abuse, dished out by the bottom girl.
Rhoades said she always met her quota.
"(The pimp) played a little bit more of the fatherly caretaker role – which seems strange thinking about it now – and then she played more of the enforcer," she said.
"But (he would be physically abusive). I watched her get hit cause she was out of line. And, you know, his philosophy was too that if a girl's got bruises and bumps and stuff, she's not going to make any money. So he was more about making money."
Travel also was part of Rhoades' life as a prostitute. Sometimes she and the other women flew to Portland and Las Vegas with the pimp and bottom girl.
Eventually, Rhoades was trained to recruit more women and help run the operation. The pimp left her alone in Portland, where she began skimming profits, and he found out about it. At that point, she was tired and ready to get out. She called a family friend, who contacted her mother.
Rhoades spent three months in an Oregon rehab facility then moved to a "sober house" in Minnesota before earning a bachelor's degree in social work at Metro State University in St. Paul, Minn., and a master's in social work at Washington University in St. Louis.
"I've been active in recovery for 12 years, and I've had my fair share of therapy," Rhoades said. "I still do trauma work today. Just because I got out (of prostitution) doesn't mean the trauma doesn't linger."